Style Guide on How to Pick that Perfect Blouse for Your Body Type
Your body type says a lot on how and what you should wear. Whether you are choosing an ethnic wear or are going for something western one thing which you need to be sure of is to choose the most adequate blouse outfit which suits your body well.
When you are wearing a saree or a lehenga, the most important piece of attire is a blouse. It may be a full sleeves blouse, a sleeveless blouse or an off-shoulder blouse whichever fits you well. There are a lot of patterns and designs when we go through the list of blouses.
It is obvious that when you are getting your blouse tailored you check out the trending and latest designs.
You have so many screenshots in your phone from which you need to choose a design that best suits you.
But here the question arises, how would you come to know which pattern suits you well? So here are some of the tips and advice that will let you know what suits you the best.
How to Pick Perfect Blouse for your Body type
Here is the list of different body types and blouse patterns which are some of the best combinations.
1. Apple-shaped Body Type
When you have a larger shoulder and bust with relatively narrow hips you have an inverted triangle or apple-shaped body. Broad shoulders, slender arms and neck will also give you a significance that you have an apple-shaped body.
The best blouse to match with this body type is a long sleeve blouse having high necks in front and low or backless patterns at the back. Try to choose lighter fabrics such as georgette, chiffon, cotton and sometimes silk too.
2. Pear-shaped Body Type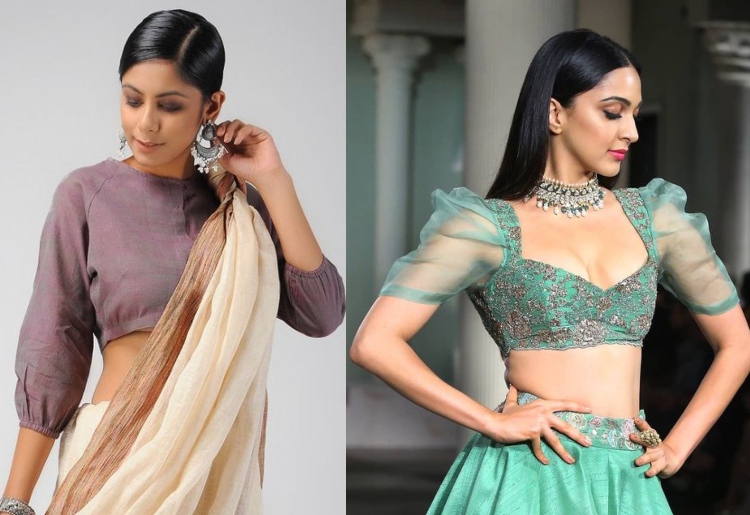 A pear-shaped body is heavier from bottom with probably narrow hips and thighs. This triangular or pear-shaped body has a well-defined waist and is balanced at the bust area. Stylists advise you to wear clothes that show off your waistline.
As the upper body is narrower and lower body is heavy the blouse choices can remain for some stylish patterns having embellishments and sleeves may be of your choice which can be long, short or sleeveless too. You can also go for some fancy back patterns for a dignified look.
3. Rectangular-shaped Body Type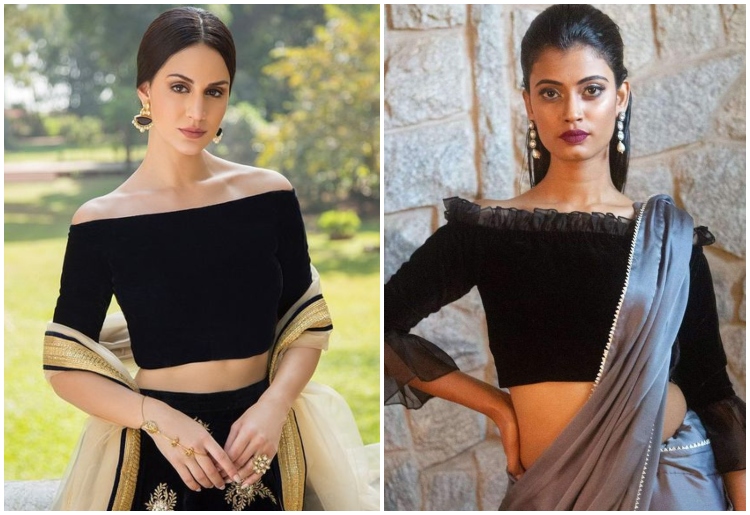 This is known as the prettiest and sexiest body type with a taller and slimmer figure. A lean waistline, equal bust and hips makes this body type. You have all the choices like off-shoulder, cold shoulder, sleeveless shoulder and some broad neck designs.
A properly fitted corset top, crop tops with elbow length sleeves and some broad necklines with long sleeves makes an adoring match for this body type. You can go for blouses that are sleeveless and show off your amazing figure.
4. Strawberry-shaped Body Type
Body with heavier bust, narrow hips and a tight waist makes a strawberry shaped body. It is sometimes also called an inverted triangle body that is a bit heavier at the upper silhouette. As you have a well-defined waistline, avoid attention to the upper body and take it to the lower part.
High necks, boat necks and closed necks are the sophisticated options for this body type. If you want to be more fashionable than you can also opt for an off-shoulder or cold shoulder blouse. Either it's a lehenga blouse or a saree blouse you can without any doubt go for these options.
5. Hourglass Body Type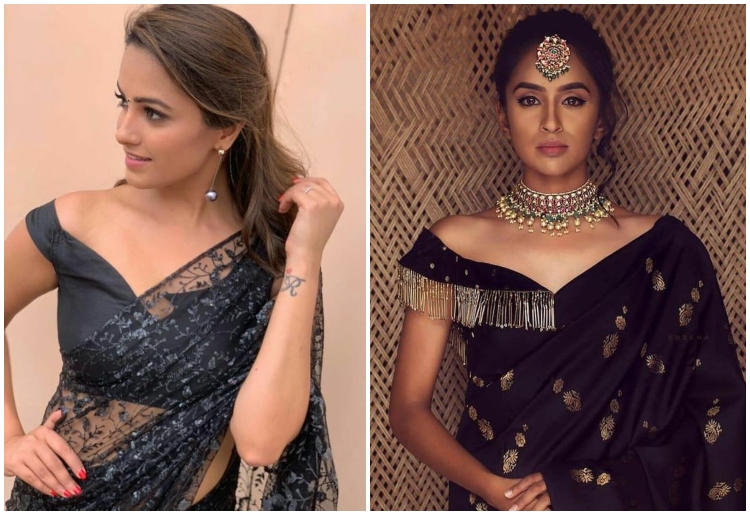 Usually in the hourglass figure you have equal bust and hips with a narrow waistline. Your body can be top hourglass or bottom hourglass with slight changes in bust and hips. It is a sharp and dignified body-type which looks amazing in long blouses and crop tops.
Narrow shoulder and deep neck patterns look just dazzling on an hourglass body type. Wearing an elbow sleeve banarasi silk blouse or a long sleeve net blouse will be the most appreciable pick. You can also experiment with some heavier fabrics such as velvet or jacquard for an ideal appeal.
6. Diamond-shaped Body Type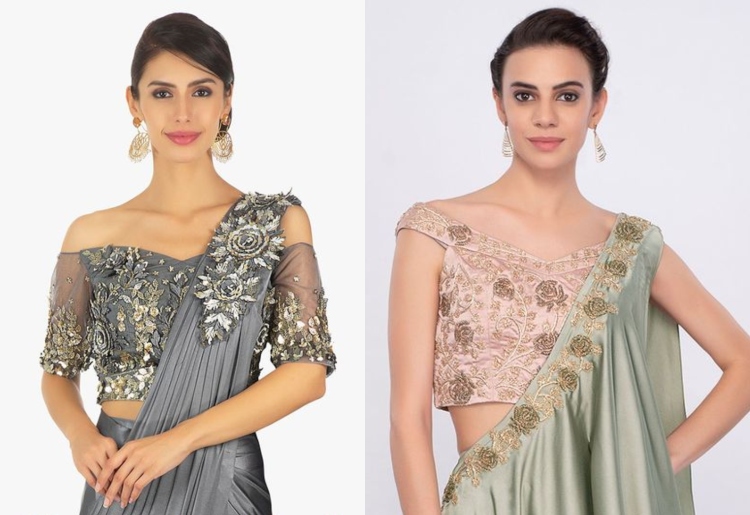 You can imagine a diamond-shaped body that would be narrower from top and bottom with wider hips and waistline. we may have slender arms, broad shoulders and a bit more weight on the upper legs. You have a slim yet narrow figure.
Can Also go for one shoulder blouse, broad and deep neck blouse or an off-shoulder blouse pattern that can be paired with a lehenga and dupatta or a saree. Some accessories paired with the outfit completes the overall look.
7. Voluptuous Body Type
A fuller body is what you call a voluptuous figure. Your curvy body will look stunning in full sleeves closed neck blouse and some fancy neck designs. You may have heavier arms and sleeveless will not look so good on you.
Choose something stylish yet full sleeves which covers your shoulder and arms providing you with a mesmerizing look. If you are wearing a lehenga then drape the dupatta in saree pallu style which will really give you a diva look.
8. Athletic Body Type
In athletic body types you will come across broader shoulders and arms with heavy upper legs. Showing off the arms is less recommended here. You can opt for wide necklines with elbow sleeves or long sleeves which will make an alluring match.
The blouse with a smaller neckline and some fancy sleeves also make a smooth match for this body type. Go for lightweight fabrics so that you can look slimmer and graceful in the ethnic outfit which you choose to wear.
Conclusion
Listed above are the body types and some of the most convenient blouse patterns which are a perfect match to those bodies. Get blouse pieces wholesale onlineor opt for it offline it's all up to your choice.
There is no restriction to choose any other pattern, it's just about the looks. You will surely look beautiful in both sleeveless and long sleeve blouses but the only thing is that one from both will look more appealing as compared to the other one.
So if you are a bride or a bridesmaid you need to choose the things widely. This guide will help you pick something gorgeous for yourself.  
Also Read About